Dj 4kerty – Gbe body eh vol2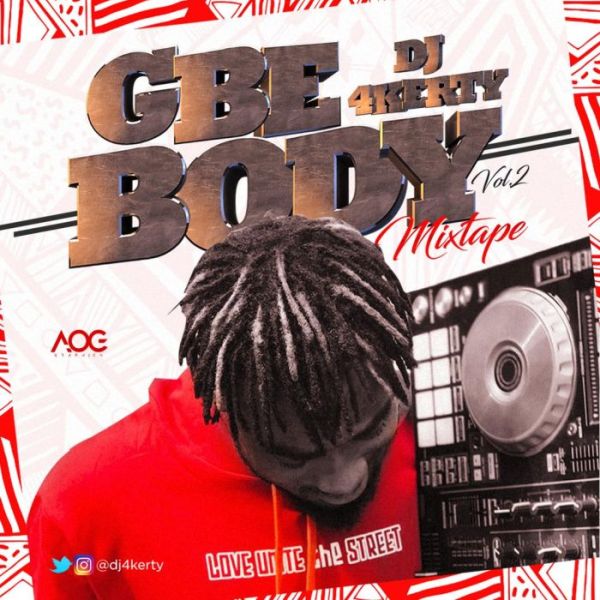 Due to the famous call for after he dropped the vol 1 of Gbe body Eh mixtape, Zanku DJ/avenue DJ – DJ 4Kerty determined to drop "Gbe body Eh (vol 2)".
if you have pay attention to the volume 1 you will recognize that is a one hundred% avenue mixtape you'll by no means want to miss on any of your gadgets.
however, DJ 4Kerty is Zlatan Ibile's DJ and he has been making crowd go gaga on every occasion he pulled up on stage with Zlatan Ibile.
Hit the download button now & revel in!!
Tracklist
1. street instrumental – 4kerty x yk
2. ogologo – cblvck x na!ra marley
3. skeleton move – master kg
4. chynaman – clock
5. Again o– 4kerty x zlatan x oladips
6. emergency – eazy9ja x buggary
7. ijo ope – rahman jago x zlatan
8. jowabyi – dambliz x naira
9. pumpum – dayo chino x naira
10. crew lagos – street dj
11. koshi danu – qdot
12. gbese – qdot
13. makhe – maphorisa
14. foti foyin – rexxie
15. classix beat – yk
16. wakajeje – danny s x baddo
17. epawon – mr benson
18. yahoo lawon oremi – eleniyan
19. ko frame – bobodee x japin
20. mumukumu – bugarry
21. bana – niniola
22. woske – baddo
23. mule – decoded
24. shora arae – sunkeysnoop
25. firi yahoo – lil frosh
26. iju ishaga beat – yk road dj
27. Screen touch – mr benson
28. see mary see jesus – kaywise
29. bad zone – street dj
30. who you be – strommy x bravo g
31. Follow me– gucci mane eko
32. Go down – barry jay
33. tiff – demmie vee
34. Won ti lo – 2tboyz
35. instrumental – 4kerty
36. zanku – zlatan
37. killin dem – burna boy x zlatan
38. nobody fine pass u– tclassic
39. azaman – slimcase
40. sensima – skibii
41. madu – kizz daniel
42 Tomorrow– barry jay
Download DJ 4kerty gbe body eh vol2
Leave a comment